Choosing the Best Individual or Team Sport for Your Youth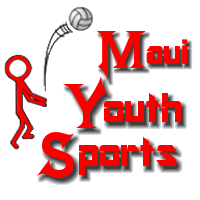 Like many parents, you see the important role of sports in your child's formative years. Youth sports can encourage physical activity in a fun way, improve attentiveness, teach cooperation and competition, foster respect among peers, and help develop not only gross motor skills, but heighten bodily-kinesthetic awareness. But what is the best sport for your kid?
Fortunately, Maui has a large variety of youth sports available year-round. The trick is finding one that appeals to your child and your wallet. Try taking your child to several types of sporting events before committing to a particular sport as there may be significant costs involved to participate. This may be a challenge since not all sports will be available at the same time.
Next, narrow your focus based on your child's innate physical skills. Why try to force your child to conform to a helmet, when he has an aptitude for a board? With all youth sports, there will be both challenging and easy aspects. For a first time sport, it is best for your child to experience one that is relatively easy to achieve some measure of success and accomplishment. Small successes instills confidence to attempt more challenging levels of gameplay.
Besides pairing your child's physical talent to a sport, also consider her 'ano – nature, character or disposition. If your kid is shy, you may prefer an individual sport where she can develop at her own pace, or to encourage her social development you may want her involved within a team sport.
There can be striking differences in coaching philosophies, facilities and team objectives, so it's important to keep a pulse on whether or not the program continues to be a positive experience for your child not only physically, but mentally, emotionally, and socially.
Finally, have him commit to completing the season. Some kids become discouraged at first, but eventually find their stride. Please keep in mind that even though you find what seems a perfect sport for your child, things may not work out. This is your opportunity as a parent to help them transition to a sport more suited to their personality and skill-set.
Oh! And remind them, and yourself, to have fun.