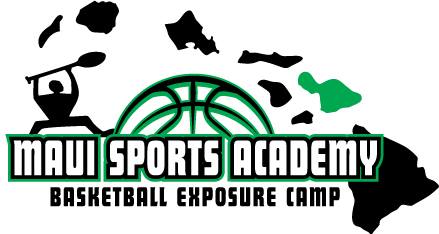 Aloha and congratulations on being selected to participate in the 10th annual Hawaii High School Basketball Exposure Camp!
You have the opportunity to participate in this camp that will feature 50 of the top players (underclassmen & 2014 graduates) in the state of Hawaii, Guam and Australia.
It is the only camp in the state with a staff of all college coaches from Hawaii and the mainland as well as Aloha State basketball greats such as Derek Low, Jesse Nakanishi, Kyle Pape and Rashaun Broadus.
The Hawaii High School Basketball Exposure Camp, run by the Maui Sports Academy, is by far the #1 basketball camp in the state. The camp, the first of its kind, has been a huge success with over 450 players from around the state representing all six islands and schools such as 'Iolani, Punahou, Kamehameha (all 3 campuses), Kahuku, Kalaheo, Hilo, Moanalua, Radford, Pahoa, Konawaena and Baldwin among others. See the list to the left of some of the great players that have attended.
The dates for the 2014 camp are June 4-8 and it will be held on OAHU at Kalani High School.
The camp's capacity is set at 50 in order to guarantee a player-to-coach ratio of about 6:1, therefore assuring as much individual attention and instruction as possible.
The camp will be run similar to the prestigious 5-Star camps that take place on the east coast each summer. All the coaches have extensive camp experience as well as being college level coaches. You can learn more about the camp, the coaches and see pictures on our website at mauisportsacademy.com.
The cost of the camp is $425. The fee includes camp basketball gear (reversible jersey and shorts), camp T-shirt, indoor basketball, evaluation form filled out by a coach that can be sent out to college coaches and outstanding instruction from very experienced coaches. All outer-island campers are responsible for their own airfare to Oahu. For those that need housing, host families will be arranged at no cost to the camper.
To ensure your spot you must return this registration form along with full payment of $425 in the form of a check or money order made out to the Maui Sports Academy ASAP, spots are filling up. An early registration discount of $25 will be applied to any payment post-marked before May 4th. You may also register instantly online at mauisportsacademy.com. Financial assistance is available. Just ask! No other camp in the state provides this option. Those that participated in this program in the past on average received $283 towards their camp fee.
We are very excited about the 10th addition of this camp!!!
Mahalo & keep shooting – Alan Walls, Camp Director