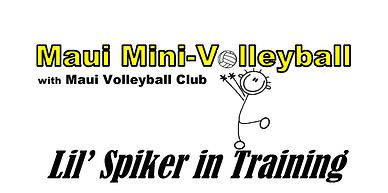 Maui Mini-Volleyball is designed to teach your son or daughter, ages 4-11 fundamental sports training and the introduction to the sport of volleyball. Through FUN, challenging, educational games and activities, your future athlete will develop loco motor movement, body control, and basic skills and concepts in volleyball. We will help to develop the athlete in your child, not just by teaching them the game of volleyball, but by nurturing the athletic skills that will allow them to play any sport.
Lil' Diggers (ages 4-5)
Designed for keiki with little or no athletic experience. Diggers develop basic athletic movements and learn fundamental skills through fun games and exercises.
Lil' Setters (ages 6-8) 
Designed for keiki with some athletic experience. Setters practice fundamental volleyball skills through a variety of drills.
Lil' Spikers (ages 9-11)
Designed for keiki with some athletic experience. Spikers continue to refine their skills, learn game basics, and participate in coach-assisted scrimmages.
Clinics begin Sunday July 14th at Seabury Hall from 3:30-5pm.  A small fee of $3.00 will be collected at the door, every Sunday, from each participant.
** H.S. Volunteer Coaches Needed **
Open for High School Students in need of service hours or interested in helping our Maui County Youth…
contact Coach Bala at 256-5746
For More Information Visit www.mauivolleyballclub.org